Quebecor Inc. announces election of directors
In accordance with the TSX Company Manual, Quebecor Inc. (TSX: QBR.A, QBR.B) is issuing this news release to disclose the voting results for the election of directors held at its Annual Meeting of Shareholders held today.
All of the proposed candidates were duly elected as directors of the Corporation by the shareholders present or represented by proxy at the meeting.The results of the vote conducted by secret ballot were as follows: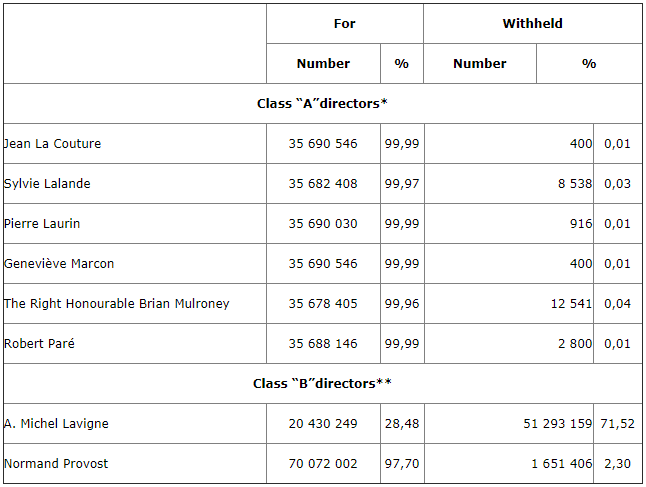 * Elected by the Class "A" shareholders
** Elected by the Class "B" shareholders
Mr. A.Michel Lavigne, a Class "B" director since 2013, did not receive the support of the majority of the Class "B" shareholders who voted at the meeting.
Having anticipated this outcome, Mr. Lavigne had advised the Chairperson of the Corporate Governance Committee that, in accordance with the majority voting policy adopted in January 2015, he would submit his resignation if the number of votes withheld from his election at the meeting should exceed the number of "For" votes cast.
At their meeting of May 6, 2015, the directors had considered what course of action the Board should take in this event. Upon analysis, the Board concluded that any such result would be related to a situation that arose in the spring of 2014 but which no longer exists and which was discussed at the annual meeting held on June 19, 2014.
The Board of Directors believes that the loss of a director of Mr. Lavigne's calibre would be unfortunate for all shareholders of the Corporation. Mr. Lavigne is an experienced director who sits on many boards, including those of the Laurentian Bank of Canada, Canada Post Corporation and Teraxion.He has also served as a director of the Caisse de dépôt et placement du Québec and acted as President and CEO of Raymond Chabot Grant Thornton in Montréal. He is a director who is recognized for his skills, expertise and integrity. The Corporation notes that Mr. Lavigne spearheaded the adoption of a number of good corporate governance policies during the past year, including the clawback policy and the minimum shareholding policy for senior executives.
For these reasons, the Corporation has refused to accept Mr. Lavigne's resignation and he has therefore been elected a Class "B" director.