Quebecor Inc. announces election of directors
In accordance with the TSX Company Manual, Quebecor Inc. (TSX : QBR.A, QBR.B) is issuing this news release to disclose the voting results for the election of its directors obtained at its Annual and Special Meeting of shareholders held earlier today.
All of the proposed candidates were duly elected as directors of the Corporation by shareholders present or represented by proxy at the meeting to hold office until the next annual meeting or until their successors are elected or appointed. The results of the vote conducted by ballot were as follows: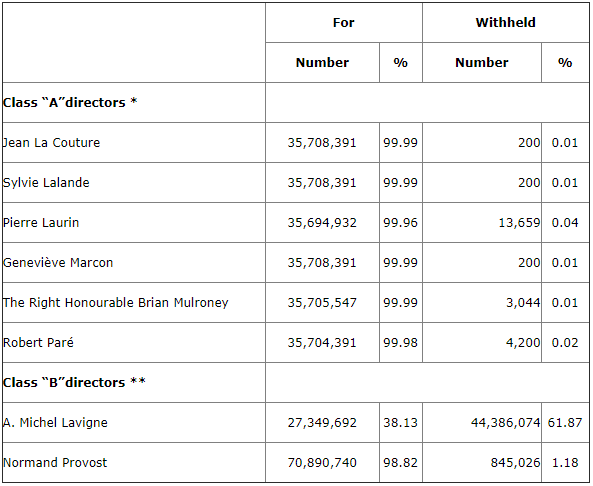 * Elected by the Class "A" shareholders
** Elected by the Class "B" shareholders
It is important to note that the abstention rate obtained by candidate A. Michel Lavigne as a Class "B" director is explained by an instruction given by a proxy advisor to its clients to show their disapproval by abstaining from voting for candidates who have been members of the Corporation's Compensation Committee, particularly due to the fact that the Corporation has not adopted an advisory voting policy on senior executive compensation. Therefore, this abstention rate cannot be interpreted as a value judgment on this candidate's skill. Since the Corporation has not yet adopted a majority voting policy, Mr. A. Michel Lavigne was duly elected under corporate law and will sit on the Corporation's Board of Directors.
In addition, following their election, the Board of Directors has appointed The Right Honourable Brian Mulroney as Chairman of the Board, and Mr. Pierre Laurin as Vice-Chairman of the Board and Lead Director.