Supporting the next generation of entrepreneurs
The first Pierre Péladeau Bursaries, named in memory of our founder, a man known for his vision, determination and entrepreneurial drive who inspired generations of Quebecers, were handed out in 1999.
The five Pierre Péladeau Bursaries, worth $75,000, $50,000, $35,000, $25,000 and $15,000, are handed out to stimulate business startups in Québec. All Québec university students are eligible. The financial support helps young entrepreneurs start up a business, carry out their business plan, and develop their products and markets, regardless of their field of study or the nature of their venture.

(video only available in French)
Déposez votre candidature
Recipients of the Pierre Péladeau bursaries
2022
First Prize – $75,000
Recipients
Simon Michaud, Université de Montréal

Project
Désherbex is bringing to market a tractor-drawn agricultural machine with interchangeable robotic tools for automated precision weeding of root vegetable fields. Its innovative technology offers a permanent, ecological and sustainable solution to weed problems and makes life easier for farmers.
Second Prize – $50,000
Recipients
Simon Diallo-Blais and Rutherford Exius, Université de Montréal

Project
OuiNut aims to launch the first-ever line of safe foods containing a precise dose of peanut protein to help desensitize children to peanut allergies. Their solution supports the introduction of allergens to reduce the incidence of food allergies in the general population in a way that's simple for parents, children and medical professionals.
Third Prize – $30,000 (ex-aequo)
Recipients
Lynn Doughane, Albert Obeid and Nanette Sene, Polytechnique Montréal

Project
Juno is developing a compact, portable device that provides fast and lasting relief from menstrual pain. The company plans to offer an effective solution that fits the lifestyles of active women.
Third Prize – $30,000 (ex-aequo)
Recipients
Chloë Ryan, McGill University

Project
Acrylic Robotics' mission is to democratize access to art through robotics. It produces blockchain-authenticated, limited-edition visual art collections designed by artists and painted on canvas by robots, making the works accessible at scale.

Fifth Prize – $15,000
Recipients
Myriam Corbeil, Université du Québec à Montréal

Project
Hôtel UNIQ is an exclusive, eco-friendly pop-up village that travels to Québec's hidden gems as well as busy tourist spots that are short of accommodations. It's the perfect balance between camping, with its close contact with nature, and conventional hotel rooms, with their service, design and comfort. Guests have a unique community experience.
See all laureates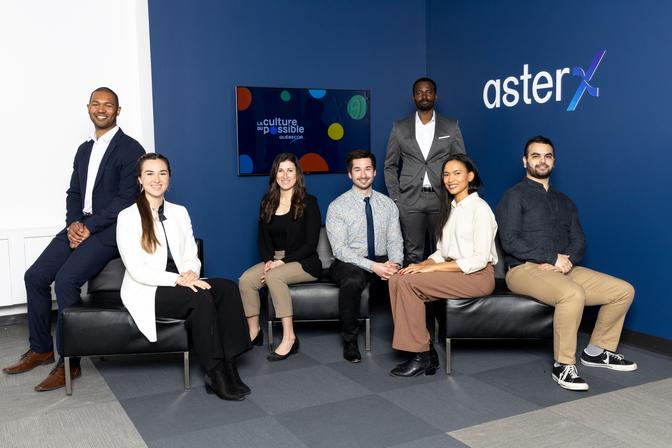 Members of the Pierre Péladeau Bursaries jury
Pierre Laurin
Chairman of the jury, corporate director, former principal of HEC
Pelra Azondekon
Director, Corporate Venture Capital, Quebecor
Jean B. Péladeau
Vice-President, Operational convergence, Quebecor
Chanel Damphousse
Partner, MacKinnon Bennett & Co. (MKB)
Sylvie Lalande
Corporate director
Adam Lapointe
CEO, Soccrent
Marc Leroux
President, Priorat Capital inc.
Érik Péladeau
President, Publication Alpha inc.